Whether you own a large corporation or small business, chances are you probably have key employees (such as owners, founders, or top executives) that are crucial to your company's success. While these people may be irreplaceable, it's important to procure a strategy that lifts the financial burden that could result from the unexpected loss of your top employee. Key Person Life Insurance is a type of business life insurance that could protect your company from this type of financial hardship.
WHO IS A KEY PERSON?
Does your business depend on a select few individuals to succeed? There may be an employee who is critical to your day to day operations – and if they suddenly were to leave, your business would be highly impacted. So, who is a key employee?: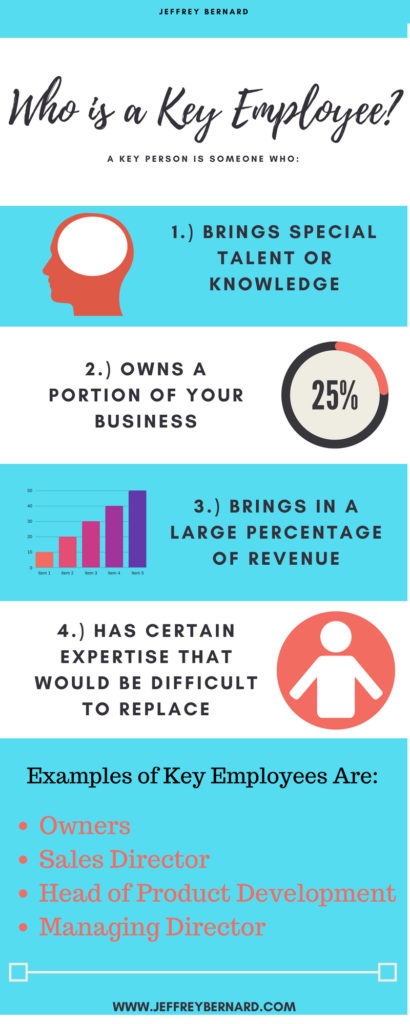 KEY PERSON LIFE INSURANCE
So, how does it work? A business purchases a life insurance policy on their key person and pays the premiums. The company is listed as the beneficiary. Should your Key Person unexpectedly die, the company will receive the policy benefit.  It's that simple!
The cost can depend on a number of factors including:
·         Age, gender, and health
·         Income/salary
·         Job duties
·         Type of life insurance (term or whole)
DETERMINING THE AMOUNT OF COVERAGE
1.      How much would it cost to replace your Key Person?
Consider revenue loss, sign-on bonuses, training, etc.
2.      What percentage of your business income does the Key Person contribute?
You can multiply this number by the projected length of time it will take to replace your key person.
3.      What is your key person's salary/income? 
You can also determine the face amount by multiplying your Key Person's salary between a factor of 5-10 times.
4.      Do you have any debts? 
In the event of a claim, the payout from your Key Person life insurance policy could resolve any related outstanding debts that would be difficult to pay-off in your Key Person's absence.
SPEAK WITH YOUR INSURANCE BROKER
Just like personal life insurance, there are a variety of policy options for Key Person insurance including Term and Whole Life products. You can also elect optional riders and extra coverages that can provide further protection. Are you taking all the necessary actions to protect your business? Talk to your broker about business life insurance options for your company.
Opinions expressed in this article are solely the author's opinion, not intended to provide the reader with legal or any other professional advice. Should you need advice or opinion, consult with a qualified professional to address your specific needs.